Real prepainted galvanized steel coil
PPGI/PPGL(prepainted galvanized steel /prepainted galvalume steel )is also known as pre-coated steel,color coated steel, coil coated steel, color coated steel,pre pianted steel sheet,The PPGI steel coil/sheet made of cold-rolled steel sheet and galvanized steel sheet, subjected to surface pretreatment (degreasing, cleaning, chemical conversion treatment), coated in a continuous manner, and baked and cooled to form a product. Coated steel has light weight, beautiful appearance and good anti-corrosion performance, and can be directly processed. It provides a new type of raw materials for the construction industry, shipbuilding industry, vehicle manufacturing industry, home appliance industry, electrical industry, etc.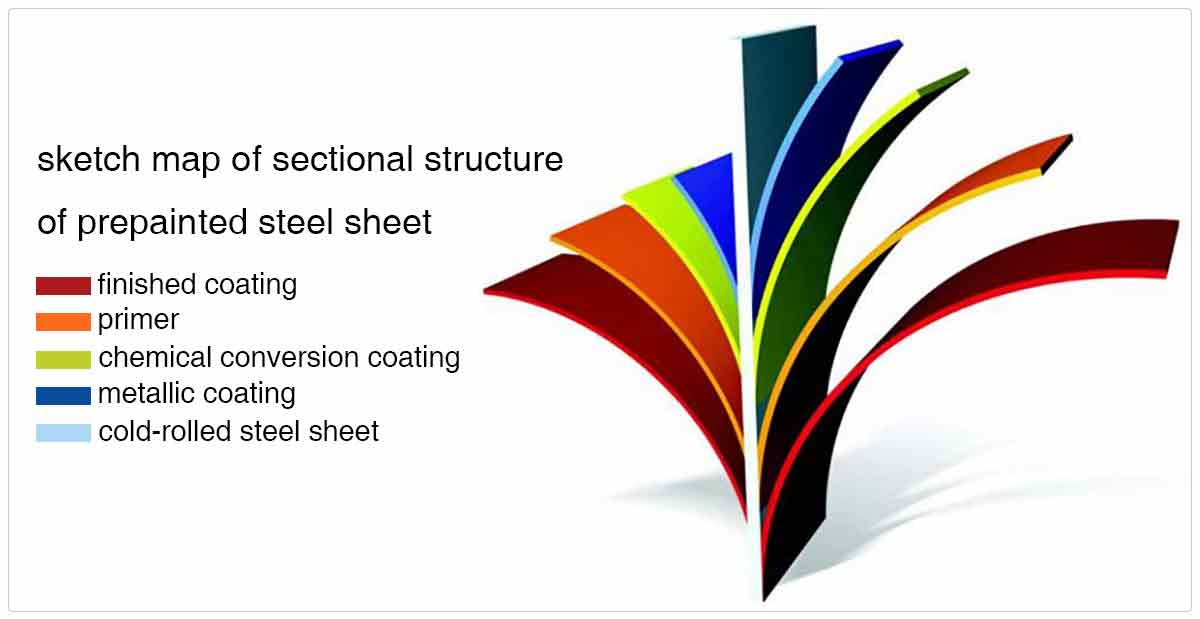 Specifications
| | |
| --- | --- |
| Technical Standard | ASTM,DIN,GB,JIS |
| Grade | CQ,HSLA,DQ,DDQ,BH,DP,TRIP or Customer's Requirement |
| Base Steel | Galvanized Steel,Galvalume Steel,Cold Rolled Steel |
| Thickness | 0.13-2.0mm |
| Width | 600-1500mm |
| Surface Color | RAL,wood grain pattern, camouflage pattern , stone pattern, matte pattern , high gloss pattern , flower pattern, etc |
| Back side | Primer epoxy |
| Coil Weight | 3-20 tons per coil |
| Package | Standard export package or customized |
| Hardness | >=F |
| T Bend | >=3T |
| Reverse Impact | >=9J |
| Salt Spray Resistance | >=500 hours |
Production Process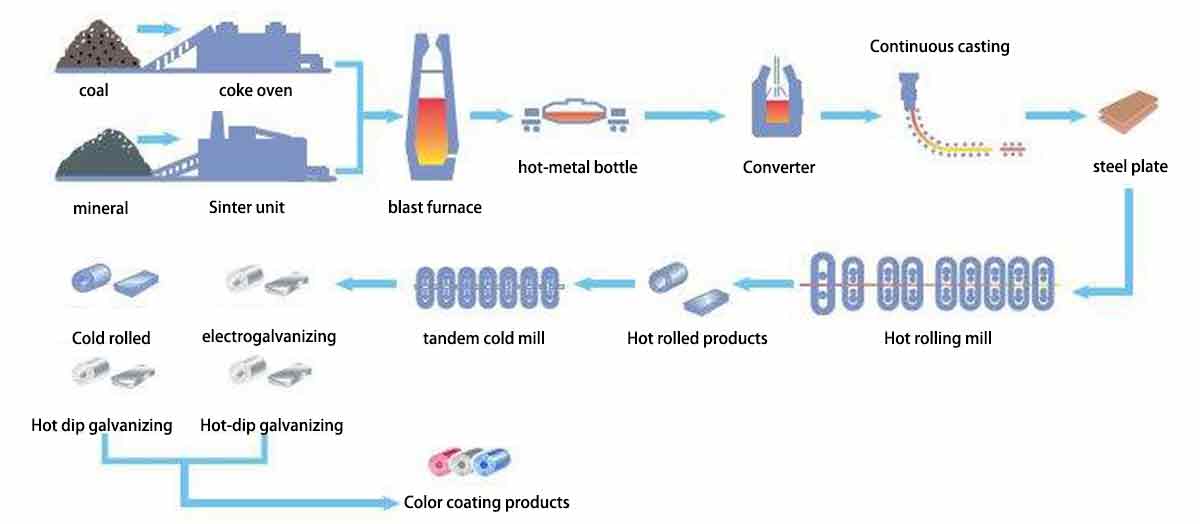 1. Cold rolled substrate color coated steel sheet
The color sheet produced by the cold-rolled substrate has a smooth and beautiful appearance and has the processing property of the cold-rolled sheet;
2. Hot-dip galvanized color coated steel sheet(prepainted galvanized steel sheet)
The product obtained by coating an organic coating on a hot-dip galvanized steel sheet is a hot-dip galvanized color-coated plate. In addition to the protective effect of zinc, the hot-dip galvanized color-coated sheet also protects against rust and has a longer service life than hot-dip galvanized sheet;
3. Hot-dip aluminum-zinc color coated sheet(prepainted galvalume steel sheet)
Hot-dip aluminum-zinc steel sheets can also be used as color-coated substrates (55% AI-Zn and 5% AI-Zn);
4. Electroplated zinc color coated sheet
The electro-galvanized sheet is used as the substrate, and the product obtained by baking with the organic coating is an electrogalvanized color-coated plate. It has a beautiful appearance and excellent processing properties, and therefore can be mainly used for home appliances, audio, steel furniture, interior decoration, and the like.
Main Features
1.Anticorrosive:13 years in heavy industrial areas, 50 years in the ocean, 104 years in the suburbs and 30 years in cities.
2.Cheap:The cost of hot-dip galvanizing is lower than that of other
3.Reliable :The zinc coating is metallurgically bonded to the steel and forms part of the steel surface, so the coating is more durable.
4.Strong toughness:The galvanized layer forms a special metallurgical structure that can withstand mechanical damage during transportation and
5.Comprehensive protection:Every part of the plated piece can be galvanized, and is fully protected even in depressions, sharp corners, and hidden places.
6.Save time and energy:Galvanizing process is faster than other coating methods.