Description
Product Description
Dx51d Z120 PPGI Pre-Painted Galvanized Corrugated Steel
Pre-Painted Galvanized Corrugated Steels are based on hot-dip galvanized sheet and hot-dip galvalume sheet. After surface pretreatment, one or several layers of organic coatings apply on the surface. Then the PPGI coil after baking, much less it is also named after the color steel coils coated with organic coatings of various colors. The color coated steel coil used hot-dip galvanized steel coil as the base material, and the organic coating on the zinc layer plays a protective role to prevent the steel coil from rusting. So the service life is longer than that of the galvanized coil.
Moreever Prepainted galvalnized steel coil paint organic coating on the hot-dip galvanized steel sheet, so it protect the GI coil from rusting. In addition to the protective effect of zinc, the organic coating on the surface also plays the role of insulation and protection to prevent rust, so the service life is longer than that of the hot-dip galvanized sheet. Especially The zinc content of the hot-dip galvanized substrate is generally 180g/m2 (double-sided), and the maximum galvanized amount of the hot-dip galvanized substrate for building exterior is 275g/m2.
Pre-Painted Galvanized Corrugated Steel Specification
Name
DX54D Prepainted Galvanized Steel PPGI Coils
Grade
SGCC/DX51D+Z, DX52D+Z, SGCD/DX53D+Z,SGCE/DX54D+Z
Thickness
0.12-2.0mm
Tolerance
Thickness: 0.02mm
Width
600-1250mm ( Normal:1250, 1220,1200,1000 mm)
Top/BackPaint
10-25 micron(Normal:10-12mic)/5-12 micron(Normal:5-7mic)
Zn coated
Z50-Z275G/m2, AZ50-AZ200G/M2
Coil weight
3-8 tons or as your requirement.
ID
508/610 mm
Coating type
PE, SMP, HDP, PVDF
Type of
Front: Doulbe coated & double drying
coating process
Back: Double coated & double drying, single coated & double drying
Double coated & double drying is used for corrugated sheet
Double coated & single drying is for sandwich panel
Pre-Painted Galvanized Corrugated Steel Applications:
1. Construction: roof and roof component, outside walls of civilian and industrial buildings, garage doors and window blinds.
2. Houshold appliances: washing machine, refrigerator, television, air conditioner and ventilation system, Vacuum cleaner, solar water heater.
3. Transportation: car ceiling, auto Industry Muffler, heat shields of exhaust pipe and catalytic converter, the ship bulkhead, highway fence.
4. Industry: industrial Instruments Electric control cabinet, industrial refrigeration equipment, automatic vending machine
5. Furniture: lampshade, counter, signboard and medical facility etc.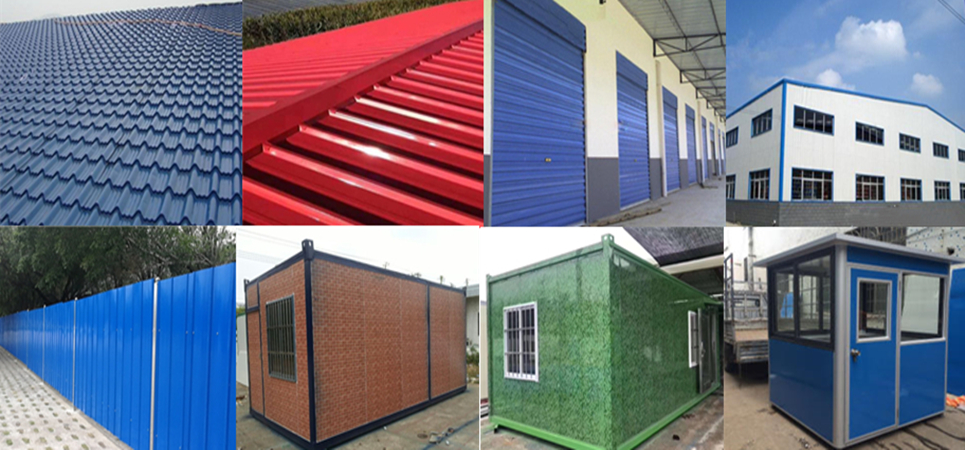 Prepainted Galvanized Coated Steel Coils  Package
Export seaworthy packing:
Inside package:Water proof paper + Inhibitor film
Outside package:Steel sheet cover + Steel edge protectors + Sufficient steel straps
Customized according to the need to develop different ways.
Port:Tianjing/Qingdao
Delivery Time:15 -20 work days.

Our Certificate