Description
Prepainted galvanized Steel Coil
Compare to normal galvanized steel coil, galvalume steel coil, the prepainted galvanized steel coil need more process flow, the main important step is paint coating thinkess, paint brand, so the PPGI coil always higher labor costs and value, also with higher technology requirement, experience, equipment.
Xinosteel can provide Free samples, Support customers the third inspections, provide MTC, and other documents required by customers. The most important thing about the quality of PPGI coil is the deployment of paint. So our company has specially hired an engineer with 20 years of paint deployment from Aksu China headquarters, finally we can meet the requirements of customers in strict accordance with international standards, which is beyond the reach of many factories in China. To be honest. we spend millions of yuan a year on the formulation of varnish.
[Content]
2.4
The package of Prepainted Galvanized Steel Coil China
3
We will answer your email in 24 hours!
Specification of Prepainted Galvanized Steel Coil
Xinosteel is Prepainted Galvanized Steel Coil Suppliers & Manufacturers, If you need Prepainted Galvanized Steel Coil, please free to contact us to get more information about Prepainted  Steel Coil price. Xinosteel can provide Free samples, Support customers the third inspections, provide MTC, and other documents required by customers.
| | |
| --- | --- |
| Product name | Hot Dipped PPGI Prepainted Galvanized Steel Sheet Coils |
| Standard | ASTM-A653; JIS G3302; EN10147;etc |
| Width | 600-1500 mm |
| Coil ID | 508 / 610MM |
| Coil Weight | 3-8 Tons |
| Type Of Substruate | Hot dipped galvanized steel coil,galvalume steel coil,cold rolled steel |
| Zinc Coating | 30-275G/M2 |
| Paint | Top:15 - 35 Microns |
| | Back:5 - 35 Microns |
| Coating Types | Top paint:PVDF,HDP,SMP,PE,PU |
| | Primer paint:Polyurethane,Epoxy,PE |
| | Back paint:Epoxy,Modified polyester |
| Color | All RAL color |
| Hardness | Soft hard(HRB60),Medium hard(HRB60-85),Full hard(HRB85-95) |
| Surface Structure | Regular spangle,Minimum spangle, Zero spangle, Big spangle |
Structure About prepainted galvanized steel coil
Prepainted Galvanized Steel Coil is a product which is coated with one or several layers of organic coatings on the surface after baking, and then after surface pretreatment (chemical degreasing and chemical conversion). Also because of the various colors of different colors of the organic paint color steel roll plate from this, referred to as color coating. The use of hot-dip galvanized steel coil for the substrate color coated steel coil in addition to zinc coating protection, zinc coating on the organic coating played a covering and protective role, to prevent rust, and the service life is longer than the galvanized steel about 1.5 times.
China Xinosteel is one of the leading independent producers of prepainted galvanized steel coil in China. We provide the most comprehensive selection of grades, RAL color, and PPGI coil forms.
We accept the specifications of prepainted galvanized steel coil to meet customer needs to the greatest extent. Including the security treatment of coil edges, we can also provide some colorful products to meet the diverse needs of customers.
If you don't trust us enough for the first cooperation, we can show you the factory and provide free samples, and if you want to know more details about prepainted galvanized steel coil, pls contact me directly, my email is zed@xinosteel.com.
Application about Prepainted Galvanized Steel Coil
1. Construction: roof and roof component, outside walls of civilian and industrial buildings, garage doors and window blinds.
2. Houshold appliances: washing machine, refrigerator, television, air conditioner and ventilation system, Vacuum cleaner, solar water heater.
3. Transportation: car ceiling, auto Industry Muffler, heat shields of exhaust pipe and catalytic converter, the ship bulkhead, highway fence.
4. Industry: industrial Instruments Electric control cabinet, industrial refrigeration equipment, automatic vending machine
5. Furniture: lampshade, counter, signboard and medical facility etc.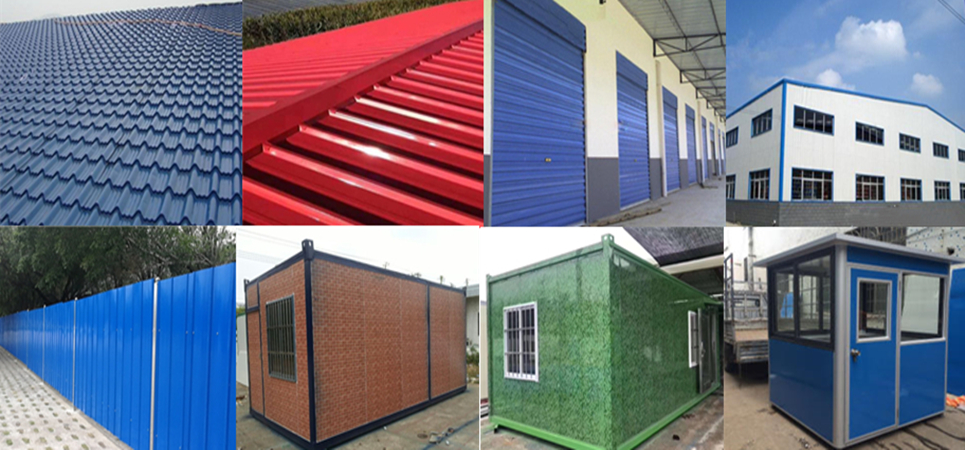 Prepainted Galvanized Coated Steel Coils  Package
Export seaworthy packing:
Inside package:Water proof paper + Inhibitor film
Outside package:Steel sheet cover + Steel edge protectors + Sufficient steel straps
Customized according to the need to develop different ways.
Port:Tianjing/Qingdao
Delivery Time:15 -20 work days.

Our Certificate