Description
Product Description
Galvalume Steel Coil
Galvalume steel coil is a super material. Aluzinc is a coating material formed from a mixture of Aluminum (55%), Zinc (43.4%) and Silicon (1.6%). Durable and long-lasting, it provides superior performance and corrosion resistance under all environmental conditions.
Product name
Hot dip galvalume steel coil 55% Al-Zn
Standard
JIS G3321 / ASTM A792M / EN10215
Grade
SGLCC/SGLCD/SGLC490/SGLC570/CS TypeA,B,C/DS/255/DX51D+AZ/DX52D+AZ/S250GD+AZ/S350GD+AZ/S550GD+AZ
Thickness
0.10-4.0 mm
Width
600-1250mm
(usual size:914mm,1000mm,1200mm,1219mm,1250mm,1220mm)
Coil ID
508mm, 610mm
Color weight
4-6 tons
Surface Treatment
Light Oil, oil, dry, chromate, passivated, Anti finger
Packing
Standard seaworthy export packing: waterproof paper+steel trip
packed+wooden case seaworthy package
Delivery
Within 10-15 days
Price
FOB&CNF&CIF price
Payment terms
TT or L/C
Application:
Prengineered steel buildings, industrial and commercial roofing and cladding,agricultural buildings, building accessories, light steel framing, Quonset huts, construction tubular, appliance, and automotive.
Xino Steel is one of the most trusted galvalume steel coil stockists and manufacturers located in China. We are committed to always provide the best products and services for our customers at competitive prices. If you want to know the galvalume steel coil price, pls contact with us, my email is zed@xinosteel.com.
Specification of Galvalume Steel Coil
1. Heat reflectivity:
The thermal reflectivity of galvanized steel sheet is very high, twice that of galvanized steel sheet, and people often use it as a thermal insulation material.
2. Heat resistance:
Aluminum-zinc alloy steel plate has good heat resistance and can withstand high temperature of more than 300 degrees Celsius, which is very similar to high-temperature oxidation resistance of aluminized steel plate. Corrosion resistance:
The corrosion resistance of galvanized steel coil is mainly because of aluminum, the protective function of aluminum. When the zinc is worn away, the aluminum forms a dense layer of aluminum oxide, preventing corrosion-resistant substances from further corroding the interior.
3. Economical:
Because the density of 55%AL-Zn is lower than that of Zn, the area of the galvanized steel sheet is more than 3% larger than that of the galvanized steel sheet under the same weight and the same thickness of the gold-plated layer.
4. Easy to paint
The galvalume sheet has excellent adhesion to the paint and can be painted without pretreatment and weathering.
The coating adhesion of the gold-plated layer of galvanized steel sheet is relatively good, so it can be directly coated on advertising boards and general-purpose boards without pre-treatment such as Weathering.
5. Galvalume steel sheet has a gorgeous surface of silvery white.
6. Galvalume steel sheet and galvanized steel sheet have similar processing performance and spraying performance.
Galvalume Steel Coil Application
Construction: Roofs, Walls, Garages, Acoustic Walls, Plumbing and Modular Houses, etc.
Automotive: mufflers, exhaust pipes, wiper attachments, fuel tanks, truck boxes, etc.
Home appliances: refrigerator back panel, gas stove, air conditioner, electronic microwave oven, LCD frame, CRT explosion-proof belt, LED backlight, electrical cabinet, etc. Agricultural use: pig house, chicken house, granary, greenhouse pipes, etc.
Others: Thermal insulation cover, heat exchanger, dryer, water heater, etc.
Export seaworthy packing:
Inside package:Water proof paper + Inhibitor film
Outside package:Steel sheet cover + Steel edge protectors + Sufficient steel straps
Customized according to the need to develop different ways.
Port:Tianjing/Qingdao
Delivery Time:15 -20 work days.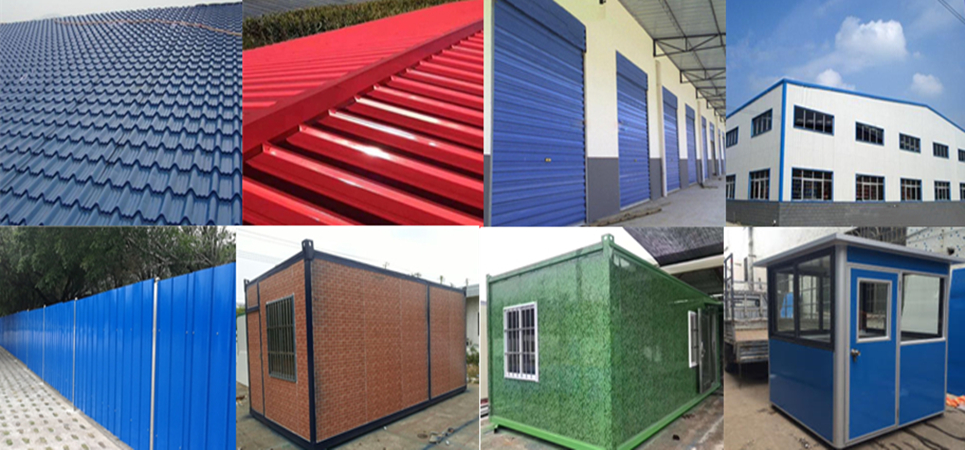 OUR CERTIFICATE