Description
Product Description
0.16x914mm DX51D prepainted galvanized stee Coil for metal roof
DX51D prepainted galvanized stee Coil is most popular products in Indonesia, which has really good corrosion resistance. And color coated steel coil is made by galvanized steel coil or galvalume steel coil. they are in the continuous coating line pained by a number of paint layer and treatment in a carefully controlled environment.
The DX51D prepainted galvanized stee Coil also are different by the paint coating thickness and color, it is divided into Top paint and Bottom paint. Normally the top paint coating is thicker than bottom, it is about 15μm~25μm, the bottom coating thickness is about 5μm~20μm. About the color, there is a common systerm, RAL number, the usual RAL number is RAL 9006,RAL 9002,RAL 3003, RAL 5015 and so on, pls check the photo as below:
Types of pre-painted steel coil/sheet
Color base color coated board
The lowest-end color-coated substrate, the aluminum content is higher than galvanized and lower than galvanized zinc, the factory standard zinc coating is 8-12g, and the maximum is not more than 60g.
PPGI
Mid-end color-coated substrate, the zinc coating range is 40-275g, and the actual factory standard zinc coating is 25-30g.
The substrate is divided into regular spangle galvanized and spangle free galvanized. The regular galvanized substrate is mostly used in construction-grade color-coated steel plate, and the spangle free galvanized substrate is mostly used in home appliance-grade color-coated steel plate because of its good surface effect.
PPGL
The substrate adopts 55% Al-Zn plating, and the zinc coating ranges from AZ30-AZ150.
0.16x914mm DX51D prepainted galvanized stee Coil for metal roof Structure
The color coated steel structure is not complex, the main part is GI/GL coil and paint. And the factory will produce different zinc coating galvanized steel coil as customer requirement, the normal zinc coating is Z40, Z80, Z120,Z150, so the price will be higher accordingly, it decides the colored zinc aluminium coated steel coil life. Then the most important for PPGI coil is the painting, the brand of painting, painting thickness and dry treament are all crucial element. The main painting brand is AKZONOBEL, PPG Industries, Sherwin-Williams, RPM Inc, Nippon Paint, so the price is different.
The painting coat is two parts, one is primer layer, also called base coat, and the outer painting is called fine coating layer. So the colored Zinc Aluminium Coated Steel Coil has primer corrosion resistance and service life. Our many clients buy PPGI coil as their facotry workshop roof and panel sandwich.
1.Standard equipment test top paint and back paint coating. 2.Strict thickness detection process.

Paint Coating Test Thickness Test
3.Accurate zinc coating content as requirements. 4.Customized RAL color steel coil or sample production.

Zinc Coating Test Color Test
Colored Aluminium Coated Steel CoilS  Package
Export seaworthy packing:
Inside package:Water proof paper + Inhibitor film
Outside package:Steel sheet cover + Steel edge protectors + Sufficient steel straps
Customized according to the need to develop different ways.
Port:Tianjing/Qingdao
Delivery Time:15 -20 work days.

Hot Sale PPGI Prepainted Steel Coils with SNI Certification for Indonesia Our Project
Construction industry:XINO STEEL Color steel coil is processed into corrugated Roofing Sheet or sandwich panel with polyurethane, rock wool and other materials, warehouse roof, wall and door of industrial and commercial buildings such as steel structure workshop, airport, warehouse, freezer.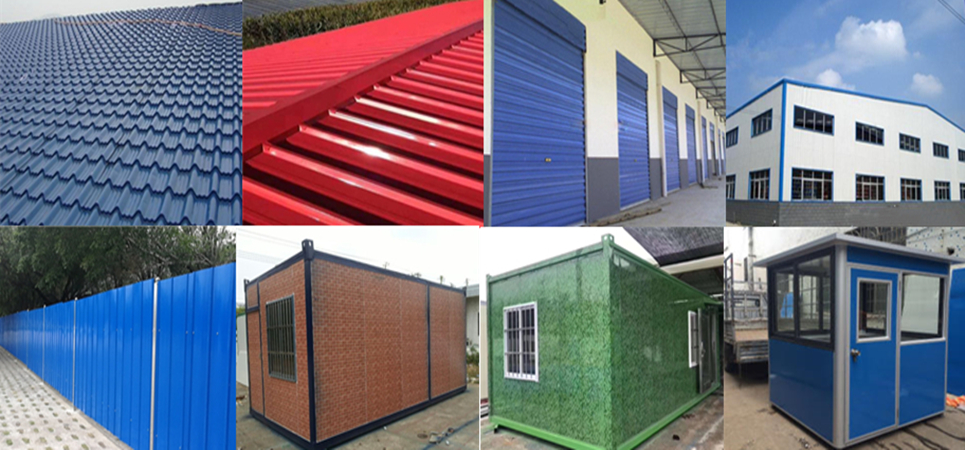 OUR CERTIFICATE